BREAKING NEWS - BERTRAM USA APPOINTS MATILDA BAY MARINE AS THEIR AUSTRALIAN DEALER - MORE DETAILS TO FOLLOW TALK TO CHAS OR SAM FOR MORE INFORMATION "AT MATILDA BAY IT IS ALL ABOUT THE BOATS" OUR WEBSITE IS UNDERGOING A FULL REBUILD TO INCLUDE MORE ON BERTRAM AND MORE PICTURES FOR OUR LISTINGS
PHOTO: THE NEW MATILDA BAY 32 off Fremantle, Western Australia. The Matilda Bay 32 has undergone radical modifications since first release and a single diesel shaft drive in 2016. The development/demonstrator vessel is the MATILDA BAY 32OBX version, powered by twin Mercury Verado 300 hp Outboards and goes like a rocket for its 6500kg dry weight. This vessel is also fitted with the Seakeeper 3DC gyro stabilizer with an outstanding 95% roll reduction. THE MATILDA BAY 32 IS ALSO AVAILABLE AS THE SINGLE DIESEL SHAFT DRIVE. Once again with our partners at Twin Disc Pacific we will showcase the 32OBX version at Sanctuary Cove International Boat Show. Chas Milner and Sam Coote are really excited to also be appointed as the Australian dealer for Bertram USA, Bertram represents an outstanding option for the recreational boating enthusiast and fisherman alike who who want the ultimate in boating. To talk to us about BERTRAM call in to the Twin Disc Pacific/Seakeeper/Matilda Bay Marine stand at the show We are one of the most highly regarded brokerages in Western Australia. Our brokers and affiliates pride themselves on their professional approach, honesty and commitment to the best service possible.

Matilda Bay Marine is a boat dealer and broker that supplies both new and pre owned boats to Australian boat owners. We are members of the Marine Brokers Institute of Western Australia.

Matilda Bay Marine have completed comprehensive R&D in their new factory in northern NSW and constructed the new Matilda Bay 32 and 32 OBX. The first of these new boats has had extensive sea trials and completed the journey from the Gold Coast to Sydney twice in varying conditions from calm to really rough with 4 metre seas.

It is the rough water performance that counts - no one wants to be out there in rough conditions but it is comforting that you boat has been there. We will separate the models for easy viewing on our new website under development. The boat is currently out of the water for further hull refinements and can be viewed at Royal Perth Yacht Club until she is ready for her next journey across the Nullabor to Sanctuary Cove. - We had many visitors with great consumer feedback and many complimentary comments. Our visitors included young and older people with interests ranging from river cruising, coastal passages, game fishing and general family boating, we have been featured in Pacific Powerboat with other magazine journalists taking an interest. We were delighted to talk to many keen fishing people who were blown away with the cockpit space and the spacious cabin interior

For further information please email or call us today.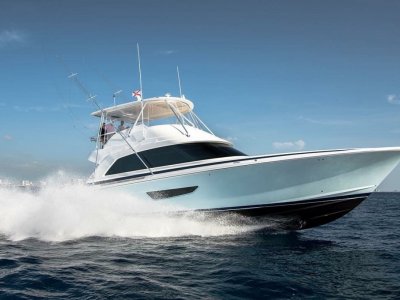 Bertram 61
AU $POA
WE ARE DEDICATED to taking the Bertram legacy into the future. With that, comes the release of the Bertram 61', which pays...
View Listing
Local Weather